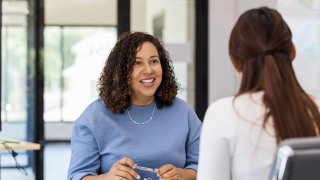 Most people go shopping knowing how much they're willing to spend on something, and thanks to new salary transparency laws, they're approaching job-searching in a similar way.
Salary transparency and pay equity are becoming so important, 33% of job-seekers said they wouldn't even go to an interview without seeing the salary first, according to a September poll of 2,000 U.S. job-seekers.
Salary disclosure laws across the U.S. in Colorado, New York City, California and more are changing how job-seekers talk about pay during interviews, says Maddie Machado, a reverse recruiter in Tampa, Fla., who previously worked for Meta, Microsoft and LinkedIn.
She's always recommended that people bring up pay in their initial conversations with recruiters, and the same holds true now that people can see what companies are willing to pay for a job upfront.
With that said, Machado says using public salary ranges is only the jumping off point to discussing money in a job interview — here's why.
Why you shouldn't reject jobs that pay below your range
Most salary range laws leave it up to companies to determine that their posted pay bands are made "in good faith," but some employers have caught heat for posting ranges spanning $100,000 or more. It's also worth noting that even though companies are required by law to list minimum and maximum salary ranges on a job ad, they're not necessarily required to actually make an offer in that range.
Machado says this could be a good thing if you see a job you're really excited about but see the salary range is lower than what you're aiming for based on your market value.
She recommends using an introductory call with a recruiter to ask about the listed range directly. State your excitement for the job, why you think you'd excel at it, and why your expertise commands a salary range you've already researched. (Sites like Glassdoor or Indeed are good places to start, as well as databases for your industry like Levels.fyi.)
Ask the recruiter: Is the company's budget set in stone, or is there some flexibility?
During her time as a recruiter, Machado saw that hiring managers were often flexible with the compensation they could offer for the right person. A great candidate could be brought in at a higher level than what was laid out in the hiring description, which could lead them to get tens of thousands of dollars more than what was outlined for the original, more junior, position.
"It's still beneficial to apply to a position you're excited about and have that conversation with the recruiter," Machado says, adding that recruiters are trying to hire the right people quickly, so they're not incentivized to waste your time.
Don't let salary ranges limit the pay you're looking for
Machado says she'll sometimes hear from clients who've done their market research and have their salary expectations set, but get discouraged when they see published salary ranges much lower than what they want.
She suggests not letting those numbers dissuade you from focusing on your target.
"Clients will say to me, 'The range is $60,000 to $80,000 and I'm looking for $110,000. Is that realistic?'" Machado says. However, "job descriptions in and of themselves shouldn't be a data point of what you're looking at when you're deciding your value," she says. Instead, focus on what you've found in your research, and what you're hearing from people in the job, especially if they have similar years of experience and background education as you.
You should still negotiate your offer
If your salary expectations are within the range being advertised, Machado says you should still negotiate the first offer you get.
In addition to checking online sources, you can get an even better idea of what range to expect by asking colleagues or peers at competitor companies. Remember to state the top end of your range, knowing that the company will counter your offer, and keep a walk-away number in mind that you're not willing to go below.
Pay transparency won't eliminate salary negotiation, says Lulu Seikaly, a senior corporate attorney focusing on employment law at Payscale, but "it will give candidates the confidence to speak more openly about their expectations of pay. The burden is now on the employer to determine the pay range, rather than the employee to initially voice an expectation, which levels the negotiation playing field."
Want to be smarter and more successful with your money, work & life? Sign up for our new newsletter!
Check out: The best time to ask for a raise, according to recruiter who's worked for Meta, Microsoft, LinkedIn
Copyright CNBCs - CNBC