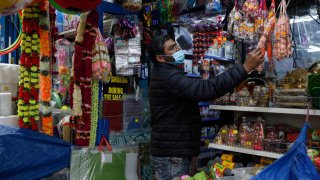 The national lockdown in England will be lifted on Dec. 2.
The second lockdown has seen leisure and hospitality venues and most shops close.
Prime Minister Boris Johnson announced that England will return to a tiered system of restrictions, but stressed that the tiers will be stricter than before the second lockdown.
He also announced what he called a "major community testing program."
LONDON — U.K. Prime Minister Boris Johnson confirmed on Monday that a nationwide lockdown in England will be lifted next week, but the easing will come with conditions.
Johnson told Parliament that the country's coronavirus lockdown will end on Dec. 2, almost a month after this second lockdown was imposed.
"For the first time since this wretched virus began, we can see a route out of the pandemic," he said while unveiling his "Winter Plan." "We know in our hearts that next year we will succeed."
He announced that England will return to a three-tiered system of restrictions, with differing degrees of rules imposed on areas of the country depending on their number of coronavirus infections. However he stressed that the tiers will be stricter than before the second lockdown.
"The scientific advice I'm afraid is that as we come out the tiers need to be made tougher," he added. Johnson said he hoped to announce which areas will come under which tiers on Thursday.
'Tougher' tiered system
Shops, gyms and hairdressers will be allowed to reopen when the restrictions are lifted, and outdoor sports can resume.
In Tier 1, people will be told to limit travel and work from home where possible. In Tier 2, bars and restaurants can only serve alcohol alongside a substantial meal.
Indoor and outdoor sports venues in Tiers 1 and 2 can allow in "limited numbers" of spectators, while "business events" will also be able to resume.
In Tier 3, indoor hospitality businesses will close except for takeaway, and all indoor entertainment venues will shut.
Where bars and restaurants are able to open, last orders will be pushed back to 10 p.m. from Dec. 2, with closing at 11 p.m. Johnson said the government will strengthen the "enforcement ability" of local authorities, giving them new powers to close down premises.
Johnson also announced what he called a "major community testing program" for areas in Tier 3.
"If it works we should be able to offer those who test negative the prospect of fewer restrictions," Johnson said, adding that people who tested negative would be able to meet up in certain places with others who also tested negative.
Christmas plans in the making
Official Christmas plans are still being formalized with leaders from each of the devolved administrations (Scotland, Wales and Northern Ireland), Johnson said. He added that it would be a "special time-limited Christmas."
"I can't say that Christmas will be normal this year," said Johnson. "In a period of adversity, time spent with loved ones is even more precious for people of all faiths."
However, the prime minister said the nation can't afford to "throw caution to the winds and allow the virus to flare up again, forcing us all back into lockdown in January."
Families will need to make a "careful judgement" about the risk of seeing elderly relatives, he said.
Coronavirus case numbers stabilizing
The government introduced a second lockdown early in November in a bid to curb a second wave of infections. It said at the time that it hoped to lift the restrictions on Dec. 2, although this would be based on Covid case numbers.  
The U.K. has recorded over 1.5 million coronavirus cases, according to data from Johns Hopkins University, giving it the third-highest number of recorded infections in Europe, after France and Spain. It has reported 55,120 coronavirus-related deaths.
There are signs that the number of new infections have started to stabilize in the country, however. The latest R number (the number of people that an infected person could be expected to pass along the virus) is estimated to have fallen to between 1 to 1.1, with a daily infection growth rate range of 0% to +2% as of Friday, government data shows.
On Sunday, 18,662 new cases were reported in the U.K. and over the previous seven days, there were 142,747 confirmed cases. But that was almost 20% fewer cases than had been reported in the seven-day period Nov. 9-15.
The British government is under pressure to get business back to as normal sooner rather than later, given the damage to the economy. The U.K. economy grew by 15.5% in the third quarter, according to preliminary figures published earlier in November, after a 19.8% plunge in the previous quarter following the first national lockdown. The country's second lockdown is likely to hit growth for the final three months of the year.
There has also been pressure on politicians to detail the planned restrictions for the holiday period. Devolved governments in Scotland, Wales and Northern Ireland are expected to decide a common plan alongside England so that families across the U.K. are able to meet.
Copyright CNBCs - CNBC