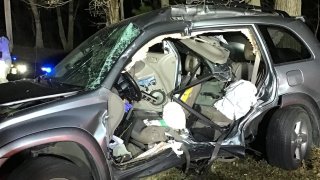 One person had to be extricated from their vehicle and subsequently taken by medical helicopter to a Boston hospital following a two-car crash in Millis, Massachusetts, on Wednesday night.
Millis fire officials responded to the crash near Middlesex and Ridge streets around 8 p.m., where first responders discovered the crash involving two cars and three people in total, authorities said.
Two riders were able to remove themselves from their cars but a third required the assistance of fire officials, authorities said. After the third person was freed, they were transported to Boston Medical Center via medical helicopter with non-life-threatening injuries, authorities said.
It is unclear whether or not it was one of the drivers who was transported to Boston Medical Center, or a passenger in the car with multiple people in it.
Officials from neighboring Medway assisted Millis fire in responding to the crash, as well as off-duty and recall officials in Millis.