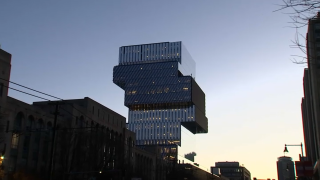 The newest edition to the Boston University campus is leaving a mark on the Boston skyline.
The school is celebrating the completion of its Center of Computing and Data Science Thursday, marking the end of a three-year-long project that totaled more than $305 million.
The 19-story building — sometimes referred to as the "Jenga Tower" due to its unique architecture — features whiteboard walls and a geothermal system.
A ribbon cutting for the building is set for Thursday afternoon, and the center is set to officially open in January.
There will be a lot housed within the 345,000 square feet of the new build, including Faculty of Computing and Data Sciences, Mathematics & Statistics Department, Computer Science programs, a technology incubator and more.