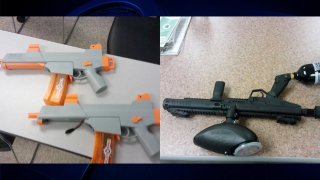 Three adults and a teenager have been arrested for allegedly shooting a person in a car with paintball guns early Saturday morning in Swansea, Massachusetts.
The shooting took place on Route 6 near Bushee Road about 1:21 a.m., Swansea police said. The person who was shot wasn't seriously hurt and didn't need to be taken to the hospital.
The person who called 911 reported the paint pellets were fired from a white Subaru car traveling west, and officers pulled one over nearby. Inside, police said, the officers found and took several paintball guns, then arrested the four people.
They were identified as Corey Dechaine, 18, from Marlboro; Derek Rapaso, 19, from Fall River; Austin Hobbs, 21, from Fall River; and a 17-year-old who wasn't identified, as he is a minor.
All four face charges of assault and battery with a dangerous weapon, disorderly conduct and conspiracy, police said. It wasn't immediately clear if they had attorneys who could speak to their arrests.