A California woman set a Boston Marathon record on Monday, crossing the finish line in 5:40:37 to become the first woman to run the world-famous race 37 consecutive times.
Patty Hung, who was born and raised in the Boston area but moved to California decades ago, found running in her late 30s, she recalled last week to her cousin's daughter, NBC10 Boston's Hannah Donnelly, who calls Hung her auntie.
Running "gives me joy, it gives me purpose and time to be with my family," said the 77-year-old, whose family met her at the finish line.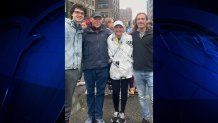 Once again, Hung returned East to run the marathon's iconic 26.2 miles. She opened the race strong, running the first 5K with a pace under 11 minutes per mile, and finished strong as well, with just over a 12-minute mile.
Her first Boston Marathon was in 1987, after she saw people running and walking on a nice day in Oakland and thought, "I can do this." Since then, her family has joined her for some races, though she said last week that it never gets easier the more she runs it.
Want to know what's up for your weekend? Click here to subscribe to our free weekly newsletter about events, experiences and adventures for you and for your family around Boston. (You might even find a few freebies!)
Halfway through the race and "it's all downhill from there," she said, "even though it's uphill when I hit Heartbreak Hill."
Ahead of the race, she made a list of all 26 miles, writing a person she was running one on behalf of. Hung usually writes the names on her arm, but wrote them on paper because of the rain Monday.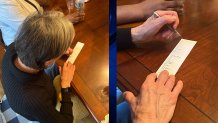 Hung said she plans to continue running in the years to come, since she wasn't taking part to break a record, just to keep a tradition alive.
Watch the full pre-marathon "On Her Mark" interview here: