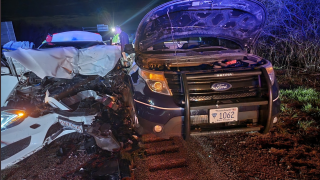 A driver is facing multiple charges after crashing into a State Police cruiser that was stopped on the side of a Massachusetts highway.
A Massachusetts state trooper was assisting a disabled car on I-95 northbound in Sharon shortly after midnight on Sunday when a car struck the parked cruiser, according to the State Police Association of Massachusetts.
The driver -- only identified as a 31-year-old man from Randolph, Mass. -- along with his two passengers were taken to a nearby hospital with injuries that are not life-threatening. Police arrested the driver after he was discharged from the hospital.
The driver is facing multiple speeding and drunk driving related charges.
The trooper was not hurt in the crash.