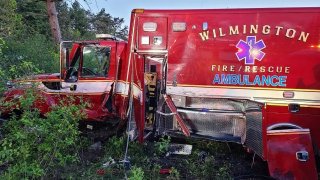 An ambulance was hit by a pickup truck while driving to the scene of another car crash on I-93 Wednesday morning in Wilmington, Massachusetts.
The crash occurred near Exit 35 around 4:30 a.m., the Wilmington Fire Department said. Wilmington Fire and EMS were heading to a car crash on I-93 southbound, north of the Route 125 exit. The ambulance was hit while attempting to make a left turn from the high-speed lane to access the emergency turnaround from I-93 north.
Both firefighters in the ambulance were taken to the hospital, were treated and released. The driver of the pickup truck was treated by Wilmington firefighters and paramedics and then taken to the hospital. His condition is unknown at this time, the fire department said.
The ambulance was not transporting a patient at the time of the accident. No further information was immediately available.