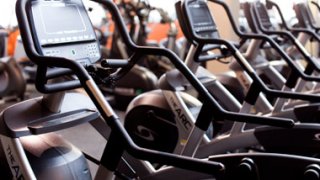 The city of Boston entered Phase 3, Step 1 of Massachusetts' COVID-19 reopening process, Monday, meaning gyms, movie theaters and other businesses are able to open their doors amid positive trends in the city's coronavirus data.
The move is possible because COVID-19 case data has been moving in the right direction since a spike following the holiday season, Boston Mayor Marty Walsh said during a Monday press conference.
"Throughout the pandemic, certainly we've taken a very cautious approach here in the city of Boston. We only move forward with reopening if public health experts say it's safe," Walsh said. "In recent weeks we've seen some improvements and our COVID numbers - that's why we're moving into Phase 3, Step 1 today."
The city's seven-day average of active cases fell from 7,545 on January 18 to 6,127 at the end of last week. Boston's community positivity rate is currently 6.8%, down from 7.2% the previous week, which Walsh said marks several consecutive weeks of decline in this metric.
During the week ending January 24, an average of 4,969 people were tested each day, down 8% from the previous week, which Walsh noted is a "little concerning."
"Our numbers could change at any time. Every single person has a role to play in keeping these COVID numbers down," Walsh said. "We need to continue to stay vigilant."
In addition to wearing masks, maintaining social distance and proper personal hygiene, Walsh urged residents to refrain from getting together for Super Bowl Sunday next weekend.
"I know that there is some excitement in Boston about the Super Bowl, so we want you to be very careful about that," Walsh said.
Other businesses in the city allowed to reopen include museums, indoor recreational facilities, arcades, aquariums, indoor historical sites and sightseeing tours such as duck boat tours.
Most businesses will be subject to the state's 25% capacity limit, which remains in effect through Feb. 8; and all gatherings and events must comply with capacity limits of 10 people indoors and 25 outdoors, Walsh said.
The move came after Walsh rolled the city back to Phase 2 of Gov. Charlie Baker's reopening process in mid-December, fearing cases could spike again after the holiday season.
Most of the rest of the state is already in Phase 3, Step 1. Restrictions were further eased Monday when a statewide business curfew was lifted, meaning many businesses -- including restaurants -- are allowed to open past 9:30 p.m.
Walsh has been urging residents to get COVID-19 vaccination when they are eligible, saying it is "one of the best things you can do to protect your family and your community and yourself." He pointed to 30 testing sites in Boston, including mobile sites that are free and open to all, regardless of whether or not you have symptoms.
"If everyone continues to do their part, we'll be able to keep moving with reopening and do it faster. We'll be able to safely bring people and activities back that we love and miss in our city and help our businesses recover," Walsh said Monday. "So I can't stress enough the importance of staying ahead of this virus."
The Reggie Lewis Center in Roxbury was scheduled to open as a COVID-19 vaccination site Monday, but had to be postponed due to the storm. Any appointments scheduled for Feb. 1 will automatically be rescheduled for the same time next Monday, Feb. 8, Walsh said.
The clinic will operate at about 1,000 appointments per week, Walsh said. The Reggie Lewis Center is poised to ramp up capacity to become the city's second mass vaccination site, joining the one that opened at Fenway Park Monday.
The move comes as Walsh's stint as mayor is potentially coming to a close in the coming weeks after he was tapped as President Joe Biden's nominee for labor secretary.
Walsh, 53, has been Boston's mayor since 2014. He's a former state lawmaker with a long history with organized labor. Walsh is a former head of the Boston Building Trades, a union umbrella organization.
His move to the U.S. Labor Department sets the stage for what could be a wide-open mayoral race. He said the transition to Boston City Council President Kim Janey, who would take over as acting mayor if Walsh is confirmed by the Senate, has already begun.
City councilors Michelle Wu and Andrea Campbell have already thrown their names into the race. Sen. Elizabeth Warren has expressed her support for Wu.
More Coverage on the Race for Mayor of Boston
With Boston Mayor Marty Walsh off to Washington, D.C. to join President-elect Joe Biden's cabinet as Labor Secretary, speculation has begun on who will run to replace him in office later this year.