Police are searching for a "suspicious person" in Boston's Charlestown neighborhood on Thursday.
The police presence was focused on several narrow streets off Bunker Hill Street. Aerial videos showed multiple Boston police cruisers at the scene. Ground photos showed police K-9 units scouring the streets and looking into back yards.
The suspect police were looking for might be connected to a moped theft in Somerville earlier in the week. No arrests were made Thursday.
Charlestown High School was placed in "safe mode" due to the investigation, school officials confirmed.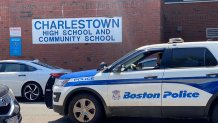 Charlestown resident Jackie Donovan was driving up Mystic Street on her way to work.
"It's a one-way street and I see a cop car flying toward me, so I bear off to the left and I think, 'Thank God it's street cleaning day.' And I look back and they're blocking off the street."
Bob Melo was working at home when his day took a similar turn.
"I was upstairs on a conference call and I see a K-9 out on my back deck. I didn't know what was going on," he said. "I saw some helicopters in the sky. I look outside my window, and the cop said, 'Lock your doors.'"
Melo said he could see K-9s running through the alleys -- about four of them in all.
Donovan said she found out what was going on when she stopped to talk to some officers.
"They had said there was a hijacking prior in the week and that there was a person running around the neighborhood potentially with a gun," she said.
Below are some additional images from the search: