A murder investigation is underway after a man was found shot to death inside a car in Dartmouth, Massachusetts.
According to police, the night manager of the Regency Inn and Suites Hotel on Faunce Corner Road found the man unresponsive and bleeding heavily inside a car parked behind the hotel around 10p.m. on Saturday.
The victim, identified as 37-year-old Joseph Tavares, of Fall River, was rushed to St. Lukes Hospital in New Bedford, where he was pronounced dead.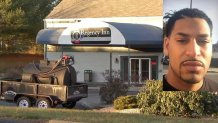 The night manager of the Regency Hotel told NBC10 Boston off camera that a guest ran into the lobby after she heard loud thuds and breaking glass coming from the back of the building.
The hotel manager said he rushed outside and found Tavares unconscious in the driver's seat. He reported this information to police as well.
Residents who live in the area are shocked.
Local
In-depth news coverage of the Greater Boston Area.
"I think that's awful," Dartmouth resident Marie Pike said. "That's terrible, especially with the holidays here."
"This is terrible," Dartmouth resident Tina Dupere said. "It's, like, real close."
The hotel manager told NBC10 Boston he handed over surveillance video, but it's unclear whether the camera recorded the shooting.
No arrests have been made. Dartmouth police say they're looking for a suspect, but do not have a name yet.