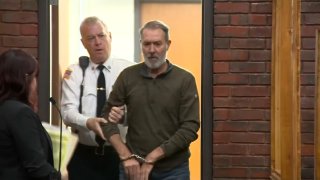 The driver charged in last month's deadly crash at the Apple store in Hingham, Massachusetts, has been released on bail.
Fifty-three-year-old Bradley Rein has been charged with reckless homicide by motor vehicle after driving through the front of the store, leaving 65-year-old Kevin Bradley dead and 19 other people injured. A judge ordered him to be held on $100,000 bail.
While the case is pending, the judge said Rein must not operate a motor vehicle and needs to get approval from the court to travel out of the state for any reason.
His next court date is set for Dec. 22.