One person was killed and six more were displaced from their homes by a fire in a three-story house in Cambridge, Massachusetts, on Wednesday morning.
The fire was first reported at about 7:30 a.m. by a passerby who saw smoke and flames coming from a building on Webster Avenue, Fire Chief Gerry Mahoney said.
He described the victim as an "elderly" woman who was found on the second floor of the wood-framed house. Her family identified her as 88-year-old Maria Pacheco and said they are devastated to have lost her.
Devastated family members said Pacheco had health issues and couldn't walk well. She would have needed help to escape from her second-floor apartment.
Family members say Pacheco's son had just gone down to the basement to start the washing machine, and moments later, the smoke and flames started. He couldn't get back into the apartment and ran outside yelling for help.
"A loss of human life is obviously something that is really tragic, and obviously with the holiday season, things have been so hard for so many people for so long with COVID and everything else," Cambridge Fire Chief Gerry Mahoney said. "It's just a very tragic situation."
Neighbors said Pacheco was the landlord and was always a welcoming face on the street.
"Super, super nice, down to Earth. She'd always come down and talk to me," said one woman who used to live on the first floor and knew Pacheco and her family.
About 70 firefighters responded to the scene in the congested residential neighborhood, the fire department said in a tweet.
Firefighters could be seen on the roof of the 3-story home Wednesday morning. Heavy smoke was pouring from the building.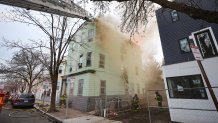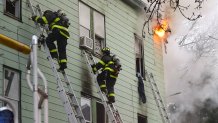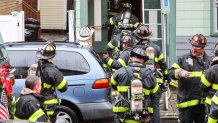 "Thank God there was not that much wind, because if there was wind and a little flame, could have attached to another house and then it would have been a domino effect," said witness Joseph Conceicao.
Mahoney said when firefighters arrived at the scene there was fire and smoke showing from the occupied home. They mounted an aggressive attack and brought the fire under control within about an hour.
The rear stairwell between the second and third floors completely burned away, making it difficult for firefighters to gain access to the building, which sustained serious structural damage, Mahoney said. There was also a partial collapse of porches located at the rear of the building.
As for how much damage was caused or if the home can be salvaged, Mahoney said it's too soon to tell. But he said the building won't be occupied for some time.
"We won't know until the building is turned back over and we're able to take a look," he said.
The state fire marshal's office said Wednesday night that the blaze does not appear to be suspicious, but that the cause remains under investigation.
The Associated Press contributed to this report.