Boston hit 50 degrees on Wednesday but our mild weather is about to take a turn, with Weather Winter Advisories and a Winter Storm Watch issued for the region to end out the week.
By Wednesday night, skies will be mostly clear and temperatures will drop to around 30 degrees, 20s north, setting Thursday up as a cooler day in the lower 40s and 30s north for high temperatures as limited morning sun fades behind thickening clouds.
By Thursday afternoon, a combination of snow and rain – most snow changing fairly quickly to rain – will progress northeast across and out of Connecticut into the remainder of southern New England by late day and into central New England by evening. We've issued a First Alert for both Thursday and Friday as that wintry weather moves in.
Along and north of the Massachusetts/New Hampshire/Vermont border, snow will persist, while south of the border some rain will continue mixing in until late evening Thursday, when the snow line drops to near the Massachusetts Turnpike for the overnight.
How much snow will we get in Massachusetts?
By Friday morning, the steady precipitation will be in a lull, but slippery road conditions will start the day where accumulating snow fell – mostly near and north of the Mass. Pike, with an inch or two near the Pike, 2-4 inches in Boston's northern suburbs to Worcester, 4-6 inches on either side of the New Hampshire border, and a general 6-12 inches in northern New England, excepting northern Maine, north of the most significant snow.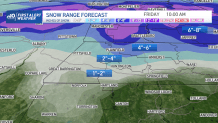 Our weather team continues a First Alert for Thursday night into Friday for impact to travel. Although the surface storm center will move away Friday, lots of upper level atmospheric energy will still be in the sky over New England, promoting recurring snow showers and bursts of snow Friday – mixed with raindrops in southeast Massachusetts – that will add another inch or so in spots as it looks right now.
Local
In-depth news coverage of the Greater Boston Area.
Snow showers gradually taper Friday evening and night, though a shift in the wind to blow from the northeast, off the ocean, may keep a few flurries going near the coast into Saturday morning – otherwise, a cool and relatively quiet day is expected Saturday into most of Sunday.
By late Sunday, the next storm center approaches New England and once again will enter an atmosphere that's marginal for rain or snow, likely meaning late day and evening precipitation develops as rain in much of southern New England, snow in northern New England and a mix between, continuing into Monday morning before exiting for some quieting ahead of yet another marginal rain/snow storm system for midweek.
A shift to more meaningful cold appears to be in the cards starting next weekend, but there's still a long way to go until then and our First Alert team will keep you posted.