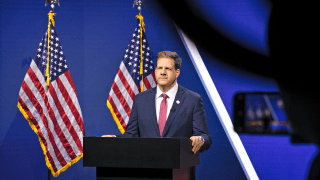 New Hampshire reported 21 new COVID-19 deaths Tuesday amid what Gov. Chris Sununu described as a "very severe" winter surge.
"Like the rest of New England, New Hampshire continues to experience the winter surge we'd always predicted," the governor said. "It's very severe. Not just in the number of cases, but in the number of hospitalizations, in the number of fatalities and in the number of families affected."
Sununu urged anyone who is not vaccinated to get the shot now, and those who are already vaccinated to look into getting a booster as soon as they are eligible, especially now that the omicron variant has surfaced as a potential concern.
Dr. Benjamin Chan, the state's epidemiologist, said the omicron variant has not yet been identified in New Hampshire, but noted that it is "only a matter of time."
New Hampshire health officials reported 902 new COVID-19 cases Tuesday and said the state continues to average between 900 and 1,000 cases a day. The test positivity rate also rose from 10% to 11% over the past seven days and the number of hospitalizations jumped from 350 to 392.
Sununu signed an executive order last week providing hospitals with the flexibility to increase bed capacity by building surge centers within their facilities and he said Tuesday that hospitals are already taking steps to make more beds available.
The state is also preparing for what Sununu is calling a "booster blitz" on Saturday, where pop-up sites in Berling, Claremont, Colebrook, Concord, Hanover, Keene, Laconia, Manchester, Milford, North Conway, Plymouth, Rochester, Salem, Stratham and Woodsville will be opened for the day to administer booster shots ahead of the holidays. Anyone who is interested will be able to sign up at vaccines.nh.gov starting on Wednesday.
Sununu said residents have already signed up for nearly a million free at-home COVID tests made available by the state. Those tests will be delivered right to residents' homes over the next week as part of a partnership with Amazon.
More New Hampshire stories