An off-duty Salem police officer died after getting in a head-on car crash Thursday night, the Essex District Attorney's Office confirmed.
Officer Dana Mazola, 56, was in a serious car crash around 11:20 p.m. Thursday on Jefferson Avenue. Both drivers were transported to Salem Hospital, where Mazola was later pronounced dead.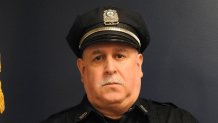 The other driver is alive but no further information was given on his condition.
Neighbor Kevin Wilson heard the accident outside his home late Thursday.
"I knew it was a severe impact... I actually did think it hit my house. That's how loud it was, you could feel the jolt of the impact," Wilson said. "One of the officers was clearly distraught, so I thought perhaps he knew the gentleman and as it turns out, it was a fellow police officer who passed so it was tough to watch. It was disturbing."
Salem Mayor Kim Driscoll said she was "absolutely devastated" to learn of the death of a "patrol officer who worked hard every single shift."
"Dana was a conscientious and professional officer, a loving husband and father, and a devoted public servant to the people of Salem. He was, as we say, the 'salt of the earth,'" Driscoll said in a statement.
The Driscoll and Mazola families attended the same church. The mayor "fondly" recalled a memory years ago when Mazola's two daughters kept her toddler occupied while sitting next to each other in the pew.
"Dana had a big heart and was a warm and caring family man," Driscoll said. "On behalf of the residents he served with such diligence and dedication for 31 years, I want to express my deepest condolences to his wife Florene and his twin girls, Amanda and Savannah, and all of Dana's family. This is an unimaginable and heartbreaking loss to them and to our whole community. May he rest in peace."
Salem Chief of Police Mary Butler said Mazola was a 31-year veteran of the department who served the city "loyally and faithfully," adding that he would be greatly missed by his brothers and sisters.
"No one could ask for a more loyal, dedicated and committed officer to serve the community and Department the way Officer Mazola did every single day of his 31 years on the job. He was a man of integrity who had a heart as wide as the whole outdoors. There is not a single officer or employee who knew him, past or present, who is not impacted by the tragic and sudden loss of Dana Mazola," Butler said in a statement.
The chief said Mazola leaves behind his wife Florene and twin daughters.
The crash is under investigation by Massachusetts State Police. No charges have been issued at this point.