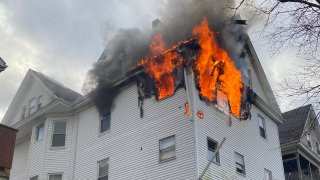 Firefighters are battling a large fire in a multi-family home in Boston's Roxbury neighborhood on Monday afternoon.
The fire was reported around 2:45 p.m. on Monroe Street.
Firefighters said the heavy fire had been knocked down by 3:15 p.m. but crews remained at the scene for about another hour "chasing hot spots" throughout the building.
No injuries were reported, but five people were displaced. Damage is estimated at $200,000.
No further details were immediately available.
More Massachusetts stories