A 21-year-old national guardsman was arrested in Massachusetts in the federal investigation into a major leak of classified U.S. intelligence documents, Attorney General Merrick Garland announced Thursday.
Jack Teixeira, a member of the Massachusetts Air National Guard's intelligence wing, was taken into custody without incident, Garland said. Teixeira will be charged with the unauthorized removal of classified national defense information.
Teixeira was due to appear in federal court in Massachusetts, Garland said. It was not immediately clear if he had a lawyer who could speak on his behalf. A phone message left at a number believed to belong to his mother was not immediately returned.
NBC10 Boston's Sky Ranger helicopter caught the arrest on camera at a home in Dighton, Massachusetts, a town east of Providence, Rhode Island, that had been swarmed by federal agents. Neighbors in quiet North Dighton couldn't believe a story with international repercussions was playing out in their backyard.
"It is overwhelming, my heart is racing," Dighton resident Harris Ntabakos said. "I'm just like, what is going on? My friend said, 'Don't worry, it is not like an active shooter or anything, you can go outside.'"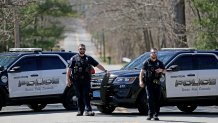 The Biden administration has scrambled for days to contain the fallout from the leaked information, which has publicized potential vulnerabilities in Ukraine's air defense capabilities and exposed private assessments by allies on an array of intelligence matters.
The National Guard did not confirm Teixeira's identity but said in a statement that, "We are aware of the investigation into the alleged role a Massachusetts Air National Guardsman may have played in the recent leak of highly-classified documents."
The Massachusetts Air National Guard referred questions to the Department of Justice and FBI.
A representative for the FBI said in a statement that agents were continuing to investigate at the residence Thursday afternoon, and that the "arrest exemplifies our continued commitment to identifying, pursuing, and holding accountable those who betray our country's trust and put our national security at risk."
Sign up for our Breaking newsletter to get the most urgent news stories in your inbox.
The New York Times first reported that Teixeira was being investigated as the suspected leaker. Investigators believe that the guardsman, who specializes in intelligence, led the chat group where the documents were posted, two people who were not authorized to discuss an ongoing investigation publicly and spoke on condition of anonymity told The Associated Press.
"It's treason," said Robert McNamara, who lives in the Dighton neighborhood. "You're turning over classified information."
"Everyone's innocent until proven guilty," said Eddy Souza, who knew Teixeira from their days at Dighton-Rehoboth Regional High School. "That's the great thing about this country. I don't think he's really doing anything malicious, I think he's probably just on Discord messing around with his friends."
Asked to confirm investigators had identified Teixeira as the suspected leaker and were closing in on him, a spokesman for the Pentagon on Thursday afternoon referred questions to the Department of Justice and FBI, but noted that agency was reviewing how it safeguards American secrets.
"It is important to understand that we do have stringent guidelines in place for safeguarding classified and sensitive information," Brig. Gen. Pat Ryder said. "This was a deliberate criminal act, a violation of those guidelines."
Earlier Thursday, when President Joe Biden was asked for an update on the investigation, he said the intelligence community and the Justice Department were "getting close" in their "full-blown investigation."
The dozens of documents offer insight into U.S. spying on the Russian and Ukrainian war efforts in their ongoing war as well as intelligence gathering on American allies South Korea and Israel, NBC News has reported, after obtaining more than 50 of them.
A "working theory" within the government was that the documents, which appeared online in March, are real, though some may have been altered, a senior U.S. official recently told NBC News.
The Associated Press and NBC News contributed to this report.