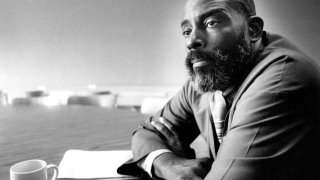 Local leaders hosted an event on Wednesday to celebrate the renaming of the South End's McKinley Schools, in honor of the late civil rights icon Mel King.
Boston Mayor Michelle Wu and Boston Public Schools Superintendent Mary Skipper, along with students, school leaders and Joyce King, attended Wednesday's event to celebrate the renaming of the McKinley Schools to the Melvin H. King South End Academy.
The school is located on Warren Avenue in Boston's South End.
"Today we are excited to acknowledge the incredible work and legacy of Mel King, whose name will forever inspire the young people of this community," Mayor Wu said. "Mel's love for Boston stretches back decades and will stretch far forward into our city's future."
Mel King, who represented Boston's South End in the Massachusetts House of Representatives, died in March at the age of 94. He was a beloved member of the community, and was known for playing a key role in building race relations in a divided Boston, advocating for the underserved and serving as a mentor to future leaders.
King was the first Black person to reach a general election in a Boston mayor's race, when he ran against Ray Flynn in 1983.
"This is just one part of our broader process to create school buildings and communities that reflect the talent and brilliance of our neighborhoods and meet the modern standards that our students, families and staff deserve," Mayor Wu said.
The mayor said that while students of the former McKinley Schools "felt the pain of deferred maintenance," that will not be the legacy of Mel King Academy. Wu said that renovation plans will be moved into the design phase this coming year, a statement that garnered a round of applause from the auditorium.
"There's a tangible love that staff has here for our students," Superintendent Skipper said. "And I have seen such amazing, smart, articulate work that the kids here are doing, that needs to be celebrated and recognized."