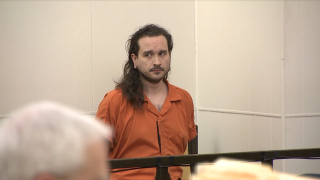 A man suspected of stabbing his uncle to death at a home in Blackstone, Massachusetts, this weekend was held without bail after facing charges including murder in court Monday.
Andrew D. McGrath, a 32-year-old from Worcester, was arraigned in Uxbridge District Court to face charges of murder and assault and battery with a dangerous weapon causing serious bodily injury.
The fatal stabbing on Blackstone Street was reported about 11:15 a.m. Saturday, police had said. The Worcester District Attorney's Office on Monday identified the man who died as Matthew F. Lesiak, Jr., a 42-year-old from Blackstone.
He'd been rushed to Rhode Island Hospital, where he died from his injuries.
McGrath was seen by a witness at the scene of the stabbing standing over Lesiak, prosecutors said in court Monday. Lesiak had been stabbed multiple times.
A knife with red-brown stains was found on the porch, and it didn't match knives or other sharp objects in the house, according to prosecutors. McGrath was arrested there.
Prosecutors didn't share during the short court hearing why they think McGrath killed Lesiak, but said they had been estranged and hadn't spoken for some time.
McGrath is due back in court April 12.