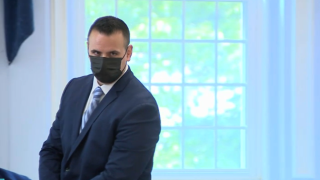 A Massachusetts State Police trooper has been relieved of duty after being arrested on a domestic assault charge in Wrentham on Saturday night.
Wrentham police said they were called to The Point Apartments on Ledgeview Way on Saturday for a report of a woman had fallen by the pool. Police said they arrested 34-year-old Michael Atton and charged him with assault and battery.
State police said upon being notified of the trooper's arrest, they immediately relieved him of duty pending an internal hearing to be held this week and opened an internal investigation into the matter.
They said the trooper is unable to assume his state police duties and responsibilities until further notice.
Atton pleaded not guilty at his arraignment Monday in Wrentham District Court. He remains free on $5,000 cash bail.
Additional conditions of his release include that he stay away from and have no contact with the victim, that he submit to a mental health evaluation and engage in any aftercare and take all medications as prescribed.
He is due back in court on July 29 for a pre-trial conference.
No further information was immediately available.