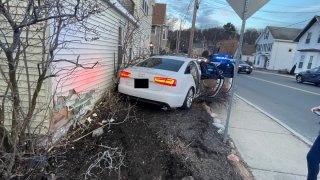 Police on Saturday announced charges for three teens who allegedly stole a car and subsequently engaged in a chase with police in Stoneham, Massachusetts on Friday, March 10.
On Friday, police said they originally responded to a report of a stolen white Audi in Winchester that was later involved in an attempted carjacking in Medford.
At around 5:30 p.m. on Friday, an officer saw the vehicle near the intersection of Main and South streets and attempted to stop it before the vehicle fled, according to authorities.
According to police the car took a left onto Pond Street and then a right onto Franklin Street, where it crashed into a house.
The three teens, one 18-Year-Old and two 16-Year-Olds from Woburn, Massachusetts fled the scene on foot. One of them was arrested at the scene, and police say the other two were identified as the investigation continued.
The 16-year-old driver of the stolen white Audi sedan was the only one who was charged for multiple offenses. The driver was charged with Receiving a Stolen Motor Vehicle, Leaving the Scene of Property Damage, Failure to Stop for Police, Reckless Operation of a Motor Vehicle, Speeding, Failure to Maintain, Marked Lanes, Failure to Stop at a Stop Sign or Traffic Lights, and for Operating a Motor Vehicle with a Suspended License.
The other two teens, an 18-Year-Old and a 16-Year-Old also from Woburn were both charged with Receiving a Stolen Vehicle.
Local
In-depth news coverage of the Greater Boston Area.
Police say the 18-year-old suspect has not been publicly identified yet because a criminal complaint will not be filed in court until Monday, March 13. However, the two minors in the case will not be publicly identified.