Tropical Storm Henri arrived in New England Sunday, bringing flooding rain and strong winds. Even prior to the storm's arrival, downed trees and limbs were expected across the region.
In Oxford, Massachusetts, a large tree was uprooted and fell onto a family's home where a mom and her two kids were inside.
Luckily the woman who was inside with her children -- an 8-year-old and a 21-month-old -- were not injured.
Several large branches -- some as big as trees themselves -- damaged the gutters and parts of the home's roof. However, the fire department responded and said the home is still structurally sound.
Homeowner Chad Bilodeau and a friend were in the process of removing branches as quickly as they could in order to put a tarp over the roof to protect it from additional rainfall Sunday and Monday.
The tree did manage to miss two cars parked outside, and the homeowner says he feels incredibly grateful that there wasn't more property damage and that his family is safe.
"I had left to go get breakfast and my girlfriend called and said that a tree fell on the house so I turned around and came home to this," Bilodeau said. "I was dreading the worst, like it had crushed the house, but we were actually pretty fortunate."
The roots of the tree that fell are rotted, which is what caused it to come down. And with the ground as saturated as it is, that's why there has been concern.
The same situation occurred in Auburn -- a tree with rotted roots came crashing down, this time into a historic home.
The 300-year-old home was just restored by a couple that bought the property three years ago in disrepair.
"We were just in the living room watching the news, and I said, 'gee, this doesn't look quite as bad as we thought. And then I heard it," she said. "It wasn't even a loud noise. I felt the thud more than anything. I would have thought it would have made more of a noise, but it didn't."
Neighbors say the Auburn couple has spent the past three years fixing up the home and had just finished. It was only six weeks ago that they put in a new chimney that was sadly destroyed by Henri on Sunday.
The homeowner, while heartbroken and very sad, says she is just happy that they are okay and they are able to stay in their home. The fire department did come check things out and says the house is structurally sound.
Elsewhere in Massachusetts, a tree came down in New Bedford, blocking the street.
Another large tree came down on Evelyn Street in Dartmouth. One half of the tree fell on the street. The other half pierced through Lili Chamberlain's daughter's bedroom.
"I looked out the front door and I was like 'Oh boy!' That wasn't thunder," said Chamberlain.
It was a familiar sight for Chamberlain's neighbor Mary Beckwith. The same thing happened with the same tree during a different storm 13 years ago.
"I must've done something to anger the nature gods, I don't know, but hopefully this is the last thing," said Beckwith.
Crews were working to remove the branches from the roof of the home.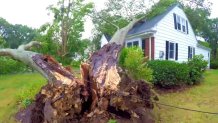 And in Palmer, the fire department responded to the intersection of Longview and Buckland streets to remove someone who was trapped inside a car after a tree came crashing through the windshield.
Police say one person was transported to a hospital for evaluation. Their condition is currently unknown.