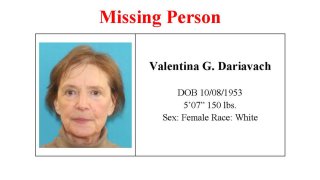 A woman is missing from Framingham, Massachusetts, and may be in danger, police said Thursday, asking for the public's help finding her.
Sixty-eight-year-old Valentina Dariavach was last seen in the Boston area on Dec. 20, Framingham police said.
Dariavach could be in danger for "health reasons and weather conditions," police said.
She is 5-foot-7 and about 150 lbs., and may be wearing a black coat with a leather purse.
Anyone with information about where Dariavach was asked to contact police at 508-872-1212.