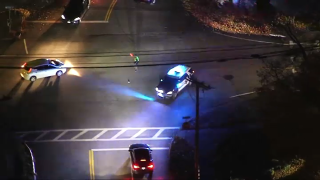 A woman has been charged in connection with a hit-and-run crash that landed an Acton, Massachusetts, teen in a coma, police said Wednesday.
The woman, identified as 85-year-old Joan Hurley, of Maynard, is being charged with leaving the scene of personal injury, reckless operation of a motor vehicle and a crosswalk violation.
The 13-year-old who was hit, identified by his mother as Cesar Soto Jr., wound up in a coma in a Boston hospital as a result of the crash.
Soto was in the crosswalk at the time of the crash, which happened on Great Road near Harris Street, according to authorities. Officers responded to the situation around 6:15 p.m. on Nov. 2.
Soto Jr. was discharged from Spaulding Rehabilitation Hospital with family and police escorting him home.
Despite having to learn to walk again after the crash left him in a coma, Cesar told reporters outside the hospital, "I'm good."
He was still in a wheelchair, having broken his leg and other bones, and he has double vision in one eye, Cesar said.
Local
In-depth news coverage of the Greater Boston Area.
Hospital staff gave him a cheer as he got into a police cruiser for the trip home.
Cesar said he felt like a celebrity.
"I know like most people aren't blessed like to like be alive and stuff after getting hit by a car like that, so I'm just like very happy and stuff that I'm actually like here," he told reporters outside his home Wednesday.
He has more speech and physical therapy ahead of him, but he is expected to recover.
"My son is alive. That's the best gift? That's the best gift ever," his mother Crisoly Tejeda said.
Hurley is scheduled to be arraigned in Concord District Court on March 9.