Police in Boston are searching for a man suspected of assaulting an elderly man in Dorchester on Sunday, officials say.
The victim was hurt in the leg about 1:50 p.m. near the intersection of Columbia Road and Washington Street, according to the Boston Police Department.
The victim told officers he'd been approached by a man, described as between 40 and 50 years old, around 6 feet tall and 200 pounds, who had gotten out of a car and hit him in the shin with a hammer before fleeing the area, police said.
Sara Charles lives upstairs from the victim. She said she doesn't know him well, but sees him occasionally, and that, "He doesn't bother anyone."
Police released surveillance images showing the suspected attacker, asking anyone with information to call 617-343-4275 or submit a tip anonymously by calling the CrimeStoppers Tip Line at 800-494-TIPS or by texting the word "TIP" to CRIME (27463).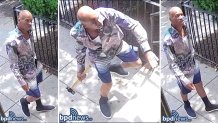 Charles doesn't recognize the man and hopes she never sees him around.
"I think that's awful because that could happen to me. I have a handicap, so that worries me," she said.