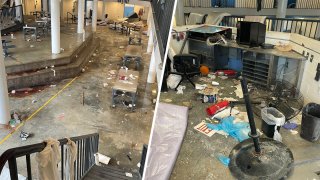 The April 21 uprising of inmates at Massachusetts' Bristol County House of Correction brought to light issues that will the county's sheriff says will take big money to change.
Inmates caused extensive damage in the incident that shut down the jail in Dartmouth for hours, smashing windows, flipping beds, fashioning weapons, strewing trash around and more in protest over plans to move them to new housing units so the facility could be made more suicide-proof.
A key problem that led to the uprising was the lack of locks on cell doors - a design that exists because there aren't toilets in every cell. This is one key change the sheriff hopes to make.
Sheriff Paul Heroux brought reporters to the jail on Friday before fixes and charges are made, and he said that all the changes they'll be requesting will cost $5.5 million. In terms of the cost for repairs, he'd preliminarily pegged the damage at $100,000-$200,000.
"The governor and I have talked through text a few times about think, I think they get it," Heroux said. "I think we're going to get the support we need to put toilets in cells and locks on doors."
No one was hurt in the uprising. Twenty people — 17 from one housing unit and three from another — are expected to face charges as the suspected ringleaders of the protest.
More on the Bristol County jail uprising
CORRECTION: (May 5, 2023 5:50 p.m. ET): A previous version of this story stated that the damage from the uprising would cost $5.5 million to fix - the version above has been corrected to reflect that the $5.5 million price tag accounts for changes and new additions to the units, not only repairs to the damage done.