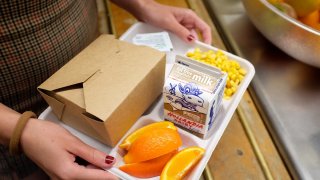 A part-time cafeteria monitor assaulted a fifth grade student at a school in Middleboro, Massachusetts, according to the town's police department.
The Middleboro Police Department is seeking to charge the staff member with assault and battery following the incident, which happened Thursday at Mary K. Goode Elementary School, a news release from the agency said.
Middleborough Public Schools characterized the incident as a recess and lunch monitor placing hands on a student, an "inappropriate physical contact" that was not sexual and which did not injure the student. The employee has been placed on leave and was told not to return to the school during the investigation.
"While this was an isolated incident involving one student who was not injured, the Middleborough Public Schools is taking this matter very seriously and will continue to prioritize the safety of all students and staff," the district said in a statement, noting that both police and the Department of Children and Families were informed about what happened.
Counseling was being made offered to students at Goode Elementary who wanted to discuss what happened at lunch.
Police were called about the alleged assault around 2:30 p.m. Thursday. Their investigation indicated the student was assaulted by the part-time cafeteria monitor, whom police noted was not a teacher at the school, police said.
The student was evaluated by the school nurse and the student's parents were immediately notified of what happened, police said.
Police are summonsing the cafeteria monitor to appear in Wareham District Court, as they seek the assault and battery charge.