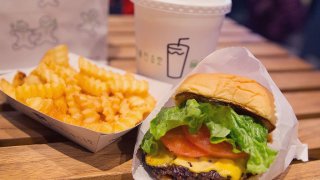 [This story first appeared on Boston Restaurant Talk.]
Last summer, it was reported that a New York-based group of burger and shake spots would be opening a new location in a growing development in Somerville. Now we have learned that the new outlet is only a few days away from debuting.
According to a press release, Shake Shack is slated to open at the base of the new Miscela residential building at Assembly Row on Monday, July 5 at 11 a.m., with $1 from every burger sold that day going to Project Bread. The new location of Shake Shack joins a handful of others in the Greater Boston area, including in Boston's Seaport District, Downtown Crossing, and Back Bay, Cambridge's Harvard Square, The Street Chestnut Hill, Legacy Place in Dedham, Arsenal Yards in Watertown, and Woburn.
The address for the new Shake Shack in Somerville is 355 Assembly Row, Somerville, MA, 02145. The website for all locations can be found at https://www.shakeshack.com/
[Earlier Article]
Yakitori Totto, Shake Shack Are Coming to Somerville's Assembly Row
by Marc Hurwitz
Also follow us on Twitter at @hiddenboston
Local
In-depth news coverage of the Greater Boston Area.
---
[A related post from our sister site (Boston's Hidden Restaurants): List of Restaurant Closings and Openings in the Boston Area]
---
Please help keep Boston Restaurant Talk and Boston's Hidden Restaurants going by making a one-time contribution or via a monthly subscription. Thanks! (Donations are non-deductible.)

Payment Options
Option 1 : $1.00 USD - monthlyOption 2 : $5.00 USD - monthlyOption 3 : $10.00 USD - monthly
Copyright Boston - Boston's Hidden Restaurants