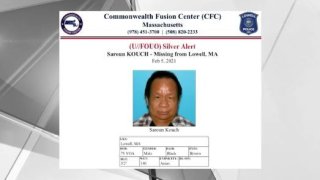 A 75-year-old man who was reported missing Thursday in Lowell, Massachusetts, has been found dead.
A Silver Alert was issued for Saroun Kouch after he was last seen around 2:30 p.m. in the area of South Street.
The body of Kouch was found in a brook near the intersection of Lawrence Street and Whipple Street, according to the Middlesex County District Attorney's Office. Foul play was not suspected.
"I want to extend my condolences to the family of Mr. Kouch and thank all the members of the community who collaborated in the search for Mr. Kouch's. We are saddened by the outcome of the search," District Attorney Marian Ryan said in a statement.