At least two people were killed as slick roads caused over 200 crashes across New England while a mix of rain and snow fell across the region Sunday and Monday.
The snow was expected to continue falling until the early evening, and dropping temperatures could prolong dangerous road conditions. (See our latest weather forecast here.)
The Massachusetts Department of Transportation said Monday afternoon they had 1,713 pieces of equipment out to clear roads and treat for ice. A speed limit of 40mph is in effect on the Mass Pike from Palmer to the New York border.
Massachusetts State Police said Route 20 from Pittsfield to the New York line will be closed as MassDOT and Pittsfield Highway Department clear downed power lines and trees. That closure is expected to last two to four hours.
In Rhode Island, a crash on Interstate 95 north in West Warwick that claimed the life of a 25-year-old woman is being blamed on the weather. A witness said the vehicle was traveling in the right lane and lost control, exiting onto the shoulder where it rolled over and struck a tree. The driver, identified as Beatrice J. Batista, of Central Falls, Rhode Island, died at the scene.
Another fatal crash was reported on Interstate 290 in Worcester, Massachusetts, around 9 p.m. Sunday. Multiple cars were involved and one person was killed.
One person was also killed in a crash in Fairhaven on Sunday night, and a pedestrian was killed in a crash in Acton on Monday afternoon, but it was not immediately clear if weather conditions played a role.
A crash on Route 1A closed the highway down in Wenham, state transportation officials said, urging drivers to find an alternative route through the area. The crash also knocked down a utility pole.
Several cars were involved in a rollover crash involving a box truck overnight on I-95 north in Wakefield, Massachusetts. The crash occurred just before midnight, and only minor injuries were reported.
The highway was shut down for a time but has since reopened.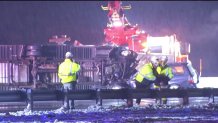 A serious crash with injury was reported on the Revere Beach Parkway in Everett around 6:30 a.m. Two vehicles were involved, one of which struck a pole. The extent of the injuries was not immediately known.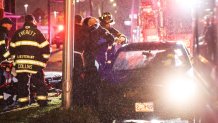 A three-car crash was also reported on Route 24 north in Freetown shortly before 6 a.m. Additional crashes were reported on Route 35 south in Weymouth and cars were off the road in Sterling and Northboro, causing some delays.
Slick roads were expected for the morning commute as snow and rain continued to fall across the region. The main roads in the Lunenberg area were mostly just wet on Monday morning, but slick spots were reported on side roads and areas of higher elevation. NBC10 Boston found several areas of ponding on the roads, as the rain has been heavy at times.
"My tires aren't great, so I'm worried about a little bit of ice if it cools down, but we'll see. Throw out some salt and some sand, we'll be good," said Tyler Thibodeau, who was driving for work.
The Massachusetts Department of Transportation issued a storm advisory Sunday night, advising travelers to expect a wintry mix of rain and snow that will impact travel -- especially on any untreated roadways -- through Monday night. About 400 pieces of equipment were out helping to keep roads clear.
"I have to be here to work for 2 o'clock, so I'm hoping that they tell me right now that I don't have to come in at all," said one woman who was worried about driving.
State police said a 40 mph speed limit was imposed on the Massachusetts Turnpike from Westfield to the New York border.
Mass. Department of Transportation and public works crews pre-treated the roads before Sunday's snow, but much of that appeared to have already washed away with the morning's rain.
New Hampshire State Police said they responded to 90 crashes and vehicles off the road since 5 a.m. Monday.
Multiple accidents were reported along I-93 in Windham, on Monday morning, according to fire and rescue officials.
Around 10:20 a.m., an SUV rolled over several times and came to rest on its roof in the median. Bystanders helped two adults and two children out of the vehicle. The kids were in car seats at the time of the crash. All four occupants suffered only minor injuries and were taken to Parkland Medical Center in Derry.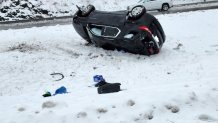 Also in New Hampshire, crashes resulting in temporary road closures were reported early Monday morning on Route 125 in Lee, Route 130 in Brookline, Route 13 in Milford, Route 122 in Amherst, Keyes Hill Road in Pelham, Hampstead Road in Derry and Route 3 in Gilford.
There was no immediate word on whether anyone was injured in those crashes.
Vermont State Police responded to 41 weather-related crashes between 3 p.m. Sunday and 6 p.m. today. Six of those crashes involved reported injuries.
State police in Maine said they had responded to 64 crashes and slide-offs on the Maine Turnpike since the beginning of the storm. Many of the drivers were going too fast for the poor road conditions, they said.
In Connecticut, 93 crashes were reported by 4 p.m. Monday, state police said, including at least seven with people injured.
Massachusetts State Police didn't have an estimate of the number of crashes that occurred statewide.