Boston entered the second day of its latest heat emergency Monday as temperatures were expected to flirt with 100 degrees.
This is the second week in a row that Boston Mayor Marty Walsh has declared a citywide heat emergency.
Amid the scorching heat in the city Monday, the MBTA's South Station experienced a power outage, the agency said on Twitter at 5:20 p.m.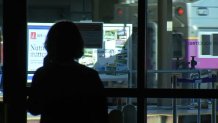 All automatic doors, escalators, elevators and the departure boards were out of service, the MBTA said, so manual announcements were made for a period of time.
The situation was resolved at 6 p.m., and everything was back to working as intended, the MBTA said as it thanked everyone for their patience.
With temperatures not far from triple digits, Monday was the perfect day to spend at the beach, even if the water isn't exactly refreshing.
"It's pretty warm actually," Juan Rivas, of Boston, said.
Rivas, who brought his one-year-old son JJ out to M Street Beach in Southie, says he drove around trying to find a spot without big crowds because of the coronavirus.
"It's not that busy," he said. "If it would've been busy, I wouldn't have walked in here. I would've tried to find an area that was not as busy, but people are being pretty good about staying about six feet apart."
The heat wave comes as coronavirus cases have jumped across the state, with nearly 500 new cases over the weekend alone.
"Obviously, there's a little bit of worry in me that maybe I will catch corona, but right now I'm a little more calm about the whole situation," Rivas said.
But if you prefer pools over salt water, there are two outdoor ones open in Boston.
The City's two outdoor pools, BCYF Clougherty Pool in Charlestown and the BCYF Mirabella Pool in the North End, have reopened since the last heat emergency, offering another way for folks to cool off. Open from 11 a.m. to 5:30 p.m. visitors must register for a swim time slot at Boston.gov/BCYF-Summer.
Additionally, there are 21 designated cooling centers throughout Boston that are open through Tuesday. 
A full list of centers including hours of operation is available here.
Residents are being asked to call ahead since community centers are limited to 40 percent capacity, per coronavirus safety restrictions. Visitors will be screened before entry and must wear a mask, maintain 6 feet of distance from others, wash their hands often and bring their own water.
So not only are reservations a must in the North End for dinner, but now also for swimming.
The Mirabella Public Pool in Boston's North End is a popular spot to cool off.
"A normal summer we sell over 5,000 passes," assistant athletic director Manny Montrond said. "During, like, a heat wave last year we had lines, people waiting. With a capacity of 300 people."
But this is anything but a normal summer. COVID-19 is forcing officials to limit the number of swimmers to 75 per 90-minute session. People have to make reservations online the day before. There are three sessions a day with cleaning in between.
Eve Marder has been swimming there for 12 years. Normally, she says, the pool opened at 7 a.m.
"What I call the 7 o'clock crazies," she said. "They're at the pool at 7 or 6:30 in the morning, whenever the pool would open. People would swim for an hour." 
Marder says it stayed open until 7:30 or 8, but not this year. The early morning group was lap swimmers, but with COVID-19 restrictions, they can't allow lap swimming and still accommodate all the people looking to cool off.
"This year when it wasn't open when it should have been," she said. "I wrote to my councilwoman and was just devastated. So this is better than not."
Marder, like many others, is making the best of it. Plus, social distancing has its advantages.
"With less people, ya know, there's more room to move around. Know what I'm saying? If it gets too crowded you really can't move," Karen Russell said.
It's also an opportunity to get bored kids out of the house.
"Cause there's just nothing for these kids to do. So anytime I can just get him out and let him go I'm going to take the opportunity," Talisa Contes said.
While the weather is great if you're on vacation, it's a different story if you're not.
"Today is like ridiculous," one man said. "I just got out of here, I just got out here and I'm already drenched."
"Hot weather is always uncomfortable when you're working," another worker said.
With temperatures hovering near a hundred degrees in downtown Boston, a construction job may have been one of the hottest spots in town.
Workers were digging up the road. It's tough work and avoiding the sun is impossible. 
"The air conditioning is broken. It's hot and everybody's cranky," a worker there said.
There are spots to cool down, though, and one of them is the Green Way. Places like this have become popular in recent weeks.
"It's not terrible. It's definitely one of the hotter days that we've seen," one woman said.
Working under a tent is one way to make the heat of the day bearable.
While it's been a hot summer at Boston Public Market, one man says he can't complain.
"I can't complain, though. I'm in the shade," he said. "More fortunate than a lot of people, I'm used to being sweaty so it's not too bad."
At the Union Oyster House, outdoor dining is the new normal with COVID-19. Even though July has been toasty at times, nobody's complaining about the heat in the kitchen or on the sidewalk outside - given the way the pandemic has done a number on restaurants.
"I love it. The outside is great. People love it. We love it. And it's so nice to see people. So it's worth it to us," one woman said.
And while people may not exactly love working in the hot weather, they do say they prefer it over the winter, which is no surprise.
---
But one thing to remember when temperatures are hovering near 100 is that there are a number of heat-related illnesses that folks are at risk of in this heat - particularly heat stroke. Signs to look out for, per the U.S. Center for Disease Control and Prevention, are listed below. 
CDC Signs of Heat Stroke
High temperature 104+
Hot Red Dry or damp skin
Fast Strong pulse
Headache
Dizziness
Nausea
Confusion
Losing consciousness
---
The Boston Public Health Commission offered the following ways to lower risk of heat stroke and other illnesses.
Boston Public Health Safety Tips
Stay out of the sun
Wear protective clothing like long sleeves ad hats
Check in on elderly family and friends
Stay inside when you can
Don't leave pets alone
Stay hydrated
Officials suggest rest if you are feeling ill and to call 911 if symptoms persist.