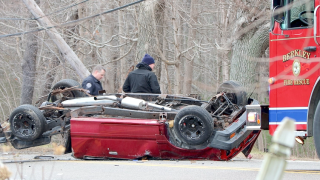 UPDATE (Saturday, Jan. 15, 6:55 p.m.): One of the occupants of the vehicle, a 16-year-old from Rehoboth, died in the crash, prosecutors said.
Two people were severely injured after a crash in Berkley, Massachusetts, on Sunday morning, and one later died, officials said.
The pickup truck crashed on Myricks Street near Grove Street at about 7:30 a.m., according to the Berkley Fire Department and Bristol County District Attorney's Office. It rolled over onto its roof and came to a rest in the middle of the street.
The driver and passenger were taken to a local hospital with life-threatening injuries, firefighters said. Berkley police and Massachusetts State Police were also at the scene.
Prosecutors said Saturday night that the passenger, 16-year-old Dylan Quinn, of Rehoboth, died. The driver, also 16, is expected to survive.