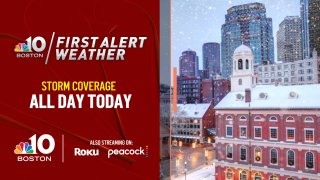 Stay with NBC10 Boston, or watch on your favorite streaming platform all day Friday for storm coverage and weekend forecast updates.
You can see our coverage on Roku, Peacock or Samsung TV+. Here's how:
Turn on your Roku device
Use one of the following access points:
Select the Live TV tile on your Roku TV home screen and then click the left arrow button, or
Open the Roku Channel app, click the left arrow button to access the left-hand navigation menu, scroll down to Channel 140 and select Live TV.
First, go to PeacockTV.com or download the free Peacock app for your streaming device, phone or tablet. It's available for iPhone or Android.
Then, click on the "channels" tab in the app.
Scroll through the channels to NBC Boston News.
Samsung TV+ is available on certain Samsung devices.
To watch NBC10 Boston on Samsung TV+ on your Samsung mobile device, download the app in the Galaxy Store or Google Play Store.
To watch on your Samsung TV, navigate to the app bar on the bottom of your screen. NBC Boston News is Channel 1035.