All eyes are focused on Monday evening through early Wednesday as a Nor'easter impacts New England.
Before the storm arrives, we have a fairly nice Sunday to prepare. Expect mostly cloudy skies, but dry conditions, and highs in the lower and middle 40s.
Sunday night, clouds continue to collect with lows in the middle 30s.
A mild Monday ahead with a mostly cloudy start, and rain by late evening with highs in the middle 40s. As of now, we see rain for the coastline on Tuesday, with heavy wet snow for the interior.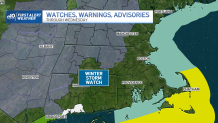 The dividing line may very well end up being I-495 throughout the day Tuesday. By Tuesday evening, colder air works in on a North wind, and changes rain to snow for all areas.
The best chance for several inches of snow at the coastline would be Tuesday night into Wednesday morning, as temperatures drop to around freezing, and snow falls overnight.
Interior areas in Worcester County with elevation could see 8-12"+ of snowfall. Close to the coastline, 2-4" of heavy wet snow may fall late Tuesday night into Wednesday.
Besides the snowfall, there are several coastal concerns to be aware of with this storm. Coastal flooding, erosion, and wind gusts over 60 mph are all possible. The potential for widespread power outages, is something that should be prepared for in advance.