Even as one snow storm ends, we're watching another, stronger one building for the start of the weekend.
Light snow continues to fall across New England throughout the day Tuesday, gradually adding to some of our snow totals. Coastal, southern New England won't see much more than flurries, but farther inland, a scattered coating to 1 inch is possible through late Tuesday inland and in higher terrain.
In northern New England, the snow is just starting to ramp up Tuesday afternoon and evening, with several inches of snow, up to about 6-8, still expected in the mountains of New Hampshire and in interior Maine.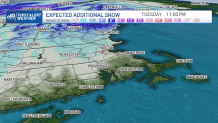 The last bit of snow wraps up in Maine overnight and we will be icy but dry for Wednesday morning as lows drop to the 20s for most.
Temperatures will actually warm a bit for Wednesday as we begin with sunshine. Highs reach the upper 30s to low 40s.
It will be extra bright with the freshly fallen snow, and the sunlight reflecting right off. Clouds return by evening and a weak system heads in.
This brings a few showers across southern New England around dinnertime, with a mix in some of central New England and light snow in northern New England. Totals will be around a coating to 1 inch.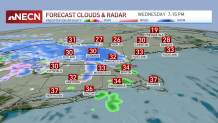 The second part of the wintry mix moves through for predawn Thursday. This one again brings rain south and snow north, with warming temps in the mid 40s by afternoon.
Forecast: Next storm to hit Mass., New England
Temperatures fall a bit to the 30s for Friday as another and larger storm system heads towards the Northeast.
We begin as snow as a low pressure system approaches. By the evening commute, we see snow spreading into Boston.
Then around midnight, the forecast models are in disagreement on how far north the rain/snow line gets. There is a chance the system tracks farther north, and that would mean we change to rain south of the Mass. Pike Saturday morning. Even if that happens, we still see a good thump of heavy snow with the onset Friday night, and this is where areas around and north of the Pike will see 6 inches or more of snow.
Our exclusive NBC10 Boston First Alert forecast system continues to show this snow potential and so that's why we have a First Alert for Saturday.
On Sunday, there will be a few snow showers around, but no major storms. In fact, our pattern seems to quiet down as we head into next week.