Living in New England can present its own set of weather challenges, especially when it comes to extreme weather.
Temperatures increased by nearly 59 degrees from Saturday morning, when it was -10 degrees out, to 38 hours later on Sunday afternoon! This sets the record for largest temperature change recorded in a 38-hour time frame.
The previous record was a 56-degree temperature change from Jan. 31, 1951 to Feb. 1, 1951, when temperatures went from 1 degree to 57 degrees.
Saturday's lowest temperature was -10 degrees, with a -36-degree wind chill. Sunday's highest temperature was 51 degrees, with a 45-degree wind chill.
That low temperature on Saturday shattered the record for coldest temperature of any Feb. 4, set back in 1886 at -2 degrees,
-10 degrees was also Boston's coldest day since Jan. 15, 1957. Saturday's -36-degree wind chill ties the record for second-coldest wind chill in Boston's history.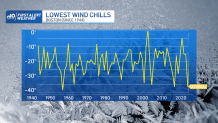 Previously, wind chills in Boston hit -36 degrees in 2016. The lowest wind chill ever record was -38 degrees, in 1957.
While this was extreme, large temperature swings aren't uncommon, especially along summer cold fronts. Temperatures can surge ahead of the front, which is traditionally accompanied by rain…and if fronts clear late evening and overnight, with the absence of clouds, overnight lows will drop dramatically.
While deep in the vertical profile of the atmosphere, this cold was an Arctic airmass (from the polar vortex) that was very limited in size, which explains why the cold was so quick to depart.
The polar vortex is a semi-permanent feature of the atmosphere, that, when dislodged, sends cold southward, delivering extremely cold air.
This was smaller-scale synoptic weather event. Synoptic scale weather events are typically a few hundred to several thousand of kilometers wide. Other examples of synoptic scale weather events are areas of low pressure, tropical cyclones and hurricanes.
Climate change could also bring about extreme temperature fluctuations. In a changing climate, winters in New England have warmed by nearly 4 degrees since the 1970s, increasing the upper bound for warmth. This exacerbates while — fewer and less severe — cold spells strike, creating larger deviations.