It's another mild day for Monday. Clouds will persist with a slight chance of a late day shower. Highs will be in the middle and upper 40s.
A cold front will arrive late Monday night through Tuesday morning. Some light rain, or even light snow, is possible as the front moves through. Temperatures will drop through the 30s by dawn on Tuesday. Skies clear by mid-morning Tuesday and winds pick up. Highs are steady in the middle 30s throughout the day.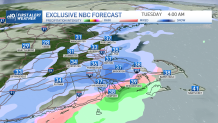 Wednesday is cold, but mostly sunny. Highs will be in the upper 20s. Thursday is mostly sunny, and seasonably cold, with highs in the middle and upper 30s. An arctic front will pass through sometime early on Friday morning and temperatures throughout the day will drop through the 20s and into the teens with dangerously cold windchills.
By Saturday morning, many spots are projected to be below zero, with windchills as cold as -25. This extreme cold will not be accompanied by any snow, but could cause problems by itself. By Sunday, temperatures quickly moderate, and there is a chance for some light snow or flurries with highs in the middle 30's.