Snow takes center stage during a large-scale storm like our incoming nor'easter, but it's important to focus on another aspect: power outages. Outages aren't just likely on the coast, because heavy wet snow will fall across the interior. That snow has a very high amount of water content, as a result it will stick to all surfaces.
To see a full list of weather alerts, click here.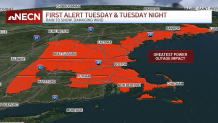 Tree limbs will be weighed down throughout the day on Tuesday. By Tuesday afternoon, winds will begin to gust near 50 mph across the interior, and near 70 mph along the coastline. Weighed down trees, covered in heavy, wet snow will break and fall on power lines.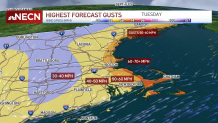 With winds above 40 mph for a prolonged period, those who lose power should prepare to be without it for 12-24 hours in most cases. At the coast, the winds alone will be enough to cause damage and take out the power. Be sure to charge cell phones ahead of time, have flashlights at the ready, and a bag of ice and cooler can go a long way to preserving food.
Local
In-depth news coverage of the Greater Boston Area.
The storm is expected to bring a wide range of potentially devastating impacts, including up to 18 inches of snow, high winds that could cause widespread power outages, coastal flooding and the potential for blizzard conditions. For the latest forecast anytime, click here. NBC10 Boston will bring you the latest snow coverage all day Tuesday.