This year has started off rather mild as we see another day with highs in the 50s today.
Our wind switches to more southwest Tuesday into Wednesday as we see 50s to around 60 degrees. Perhaps reaching a few new record high temps for this date.
A warm front lifts through Tuesday night, so some showers will move in for the afternoon, and evening. We will see around half an inch of rainfall through Tuesday night.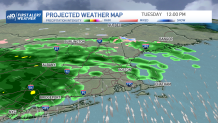 Wednesday night into Thursday we have another wave of rain and showers. Then cooler air moves in from the northeast.
As this happens, the mountains and northern New England will see a wintry mix to snow Thursday through Friday.
The ice could bring around a tenth inch of accumulation to those areas, before turning to snow. There is also the potential for a weak coastal storm sometime Thursday into Friday to bring in more precipitation to southeastern New England.
With some cold air wrapping around the low, we may see some snow in the interior and rain at the coast of MA. Colder air, rather, more seasonable temps, will return for the rest of the 10-day and next weekend with highs in the upper 30s to low 40s.