The weekend is upon us, and the forecast is split. We're giving up most of the day to wet weather, but it's an important deposit in the rain bank to sustain us through another long period of dry weather next week.
By itself, the approaching front from the west isn't much, but combined with a meandering low pressure system off the Delaware/New Jersey coast, we have the potential for some serious water.
This compact low is churning up lots of rain – some of it heavy – as it chugs in our direction. Parched landscape across New England will welcome it, but it seems like a lot in a short period of time. Look for fast runoff and lots of ponding as the downpours pass through after 3pm today and into the evening tonight.
After midnight, the pacing will let up as the core of the heaviest rain moves away. All told, 1-2+ inches of rain is expected into Sunday morning.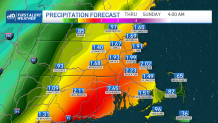 Speaking of, the Sun will be out early, but the total clearing will take several hours. Afternoon sun will warm us well into the 70s for a very respectable "make-good" on the weekend.
Next week is pretty quiet. We'll start off coolish with the sea breezes, then hit a warm bump by midweek, then cool down again. Late week, the signs are all there for a sizeable warmup heading into the holiday weekend.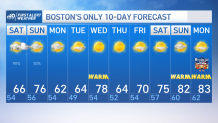 Enjoy this weekend!