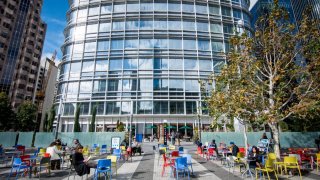 After saying Wednesday that it would cut thousands of workers globally, Salesforce Inc. remained mum about the impact its announced layoffs and real estate reductions will have on its Boston-area workforce.
The San Francisco-based business software maker, which established a presence in Greater Boston in 2014, said Wednesday in a public filing that it plans to cut operating costs by laying off 10% of its more than 73,000-person global workforce, or just under 8,000 people.
Salesforce has 1,450 employees in Greater Boston and three offices in the Bay State; one is located in Boston's Copley Square, the others in Cambridge and Burlington. Locally, employees of the business software maker work as part of the customer success, technology and product teams.
More on this story from Boston Business Journal
Copyright Boston Business Journal