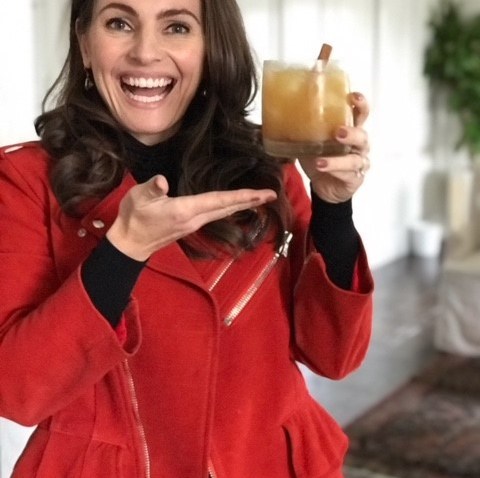 We're featuring our viewers favorite holiday dishes & drinks throughout Nov. & Dec. Share a photo of your favorite #MustMake using #HubHolidays & tag @TheHubToday

Kicking things off is Anna's #MustMake for Thanksgiving:
Lord's Pomme
Food & Drink
Everything about Boston restaurants and bars, entertainment, nightlife and more
Note: Fresh pressed apple cider, sweet and spicy cinnamon and a rich and heady rum make this one of our favorite house cocktails. A blast of fresh lemon at the end keeps things bright and refreshing. Cheers!
Serves: 1
Difficulty: Easy
Prep Time: 5 min
Total Time: 5 min
*This recipe can be easily multiplied and premixed when entertaining.
INGREDIENTS:
4 oz Apple Cider
1 tsp Cinnamon Simple Syrup (recipe to follow)
2 Tbs Lemon Juice
1.5 oz local Rum (We like Green Head or Golden Salt Marsh Rum by Old Ipswich)
Cinnamon Sticks & Lemon Wheels for Garnish
Ice
Cinnamon Simple Syrup
1 cup granulated sugar
5 cinnamon sticks
PREPARATION:
For the Cinnamon Simple Syrup:
Make Cinnamon Simple Syrup by combining the granulated sugar with 1 cup water in a small pot over medium high heat. Bring to a boil, then reduce the heat to a simmer. Simmer until sugar has completely dissolved, about 2 minutes.
Turn off the heat and add the cinnamon sticks. Let the cinnamon infuse in the hot simple syrup for 30 minutes while it cools. Store in an airtight container in the refrigerator up to 2 weeks.
For the Cocktail:
In a tumbler, combine the apple cider, cinnamon simple syrup, lemon juice (more or less to taste), and rum.
Serve over ice with a lemon wheel and extra stick of cinnamon.