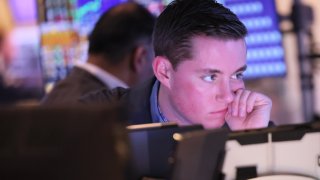 This is CNBC's live blog covering European markets.
European stock markets closed lower Wednesday as investors digest inflation data and mixed signals from U.S. Federal Reserve officials on the trajectory of interest rate hikes.
The pan-European Stoxx 600 index closed 0.1% lower, with mining stocks down 1.3% after recent gains on Chinese economic data. Tech stocks made the biggest losses, down 1.9%, while insurance led gains with a 1.1% uptick.
U.K. consumer price inflation came in at 10.1% in March, down from 10.4% in February. Economists polled by Reuters expected a fall to 9.8%.
Figures on Tuesday showed U.K. wage growth slowed by less than expected in the three months to March, which economists said may complicate the Bank of England's decision on whether to pause hikes at its May monetary policy meeting.
Atlanta Federal Reserve President Raphael Bostic told CNBC that he sees one more rate hike of 25 basis points, before pausing to see its impact on the economy. That would take the U.S. Federal Funds rate to 5% to 5.25%.
Bostic's words come as St. Louis Federal Reserve President James Bullard told Reuters that he favors a higher terminal rate of between 5.50% and 5.75%.
The Stoxx 600 hit a 14-month high during Tuesday's session, according to Eikon data. Investors have maintained their risk-on appetite despite continued inflationary headwinds and central banks being pushed to continue considering rate hikes.
Paul Gambles, co-founder and managing director of MBMG Group, told CNBC's "Squawk Box Europe" it was in large part because market participants were nonetheless expecting a coming pivot on monetary policy — and also that the pivot will be effective, and inflation will become muted while economic growth begins to recover.
U.S. stock markets ticked downward as traders weighed the latest round of earnings. Asia-Pacific markets closed mixed.
Global transaction volumes below expected range, says Tradeshift CEO
Christian Lanng, CEO of Tradeshift, discusses the latest data from its global trade index report.
Bitcoin and ether drop below key levels reached in last week's rally
Crypto prices pulled back on Wednesday after a big rally last week.
The price of bitcoin was last lower by about 3% and trading at $29,202.54, while ether fell 5% to $1,977.28, according to Coin Metrics.
Market participants had expected a pullback in prices this week due to the big up move last week and the low liquidity in the market since the banking crisis. Many still see crypto in a firm upward trend, however.
Investors this week are digesting new inflation data from the U.K. and weighing the prospect of more interest rate hikes there as well as in the U.S. They're also watching a pair of Congressional hearings – one on the SEC's approach to crypto on Tuesday and another on stablecoins set for Wednesday.
For more on what's driving crypto Wednesday check out our full story here.
— Tanaya Macheel
UK inflation could fall to 2.5% nine to 12 months from now, says investment services firm
Kevin Boscher, chief investment officer at Ravenscroft, says he expects inflation will fall "quite sharply from here."
It's a 'pretty frustrating' time for many traders, strategist says
Charu Chanana, market strategist at Saxo Markets, says markets are struggling to find direction and face a "Goldilocks situation."
We should not assume all banking risk has disappeared, advisor says
Paul Gambles, co-founder and managing director of MBMG Group, discusses the challenges facing markets and economies.
Stocks on the move: Worldline, Heineken up; JustEast falls
Payment services company Worldline topped the Stoxx 600 index in morning trade, gaining 5.7% on reports it has entered talks with Credit Agricole over a joint venture in the French digital payments market.
FX fintech Wise also ticked higher after its shares dropped on Tuesday as it reported volumes missing estimates in the fourth quarter.
Meanwhile, Heineken was up 3% after reaffirming its full-year guidance and reporting 9.2% revenue growth in the first quarter.
At the other end of the index, food delivery firm Just Eat fell 4.3% as it reported a fall in orders and gross transaction value. It also announced a share buyback program of up to 150 million euros.
Swedish steel processor Ssab was down 10.8% after it confirmed a SEK 8.70 per share ($0.84) dividend for 2022. Stocks tend to fall on an ex-dividend date.
— Jenni Reid
Europe stock markets open lower
Europe's benchmark Stoxx 600 index was down 0.22% in early trade, with tech stocks leading losses to fall 1.2%.
The index hit a 14-month high on Tuesday.
The U.K.'s FTSE 100 was down 0.3% and Germany's DAX fell 0.2%, though France's CAC 40 had a narrow gain of 0.05%.
— Jenni Reid
UK inflation ahead of expectations at 10.1%
U.K. inflation unexpectedly held above 10% in March, fueling expectations the Bank of England will hike by 25 basis points at its May meeting after pay growth slowed by less than expected.
The consumer price index came in at 10.1%, down from 10.4% in February but ahead of the dip to 9.8% expected by economists polled by Reuters.
Downward moves were driven by motor fuels, and housing and household services, while food and recreation/culture became more expensive.
Prices were up by 0.8% month on month.
Core CPI, excluding energy and food, was unchanged at 5.7%.
— Jenni Reid
CNBC Pro: Morgan Stanley predicts "solid" first quarter for these 5 European stocks – but with a catch
Morgan Stanley has predicted that European companies will beat market expectations of their first-quarter earnings citing the better-than-expected macro newsflow over the last few months.
However, the Wall Street bank also expects weakness due to several factors, such as a slowing economy, headwinds from a strengthening Euro, and profit margin contraction.
The investment bank's strategists also named a handful of "high conviction" stocks expected to outperform in their first quarter results.
CNBC Pro subscribers can read more here.
— Ganesh Rao
CNBC Pro: Bank of America is doubling down on this semiconductor stock — and gives it 50% upside
Semiconductor stocks are on a roll this year after a difficult 2022.
The iShares Semiconductor ETF, which tracks the sector, is up about 22% in the year to date — nearly three times the return of the S&P 500 this year.
Nvidia has undoubtedly been one of the sector's biggest winners this year, but Bank of America is doubling down on a lesser-known chip stock.
Pro subscribers can read more here.
— Zavier Ong
CNBC Pro: These 6 global stocks are 'Buffett-style' picks, according to Credit Suisse
Warren Buffett's Berkshire Hathaway raised its stakes in five Japan stocks — a good sign for investors in Japan, according to Credit Suisse.
In light of those developments, Credit Suisse analysts said in a note that they've screened for stocks in Japan that are "Buffett-style picks" — that is, they have characteristics typical of Buffett's holdings.
Here are six of them.
CNBC Pro subscribers can read more here.
— Weizhen Tan
European markets: Here are the opening calls
European markets are heading for a flat open Wednesday.
The U.K.'s FTSE 100 index is expected to open 3 points higher at 7,910, Germany's DAX 11 points higher at 15,877, France's CAC down 1 point at 7,532 and Italy's FTSE MIB 24 points higher at 27,357, according to data from IG.
Earnings come from Saipem and L'Oreal. Data releases include U.K. inflation figures for March and final euro zone inflation data for March.
— Holly Ellyatt
Copyright CNBCs - CNBC