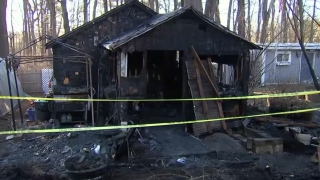 A woman who was critically hurt in a large house fire in Hopkinton, Massachusetts, early Sunday morning has died, officials said Tuesday.
A man and a dog who were also pulled from the home on Hayward Street near Newbury Street had already died.
The victims were identified by state and local fire officials and the Middlesex County District Attorney's Office Wednesday as Seldon MacNeill, 61, and Judith MacNeill, 68.
The cause of the fire hasn't yet been identified, but it's not believed to have been suspicious, the officials said.
In a statement, they urged people ensure their fire alarms are working properly: "In the two weeks between March 26 and April 9, four fires in homes without working smoke alarms claimed seven lives in Massachusetts. All of the victims were over the age of 60. Every household should have working smoke alarms on every level of the home, but seniors face the greatest risk of death or serious injury in a fire. Please check in on older friends and relatives to see if they need assistance installing, maintaining, or replacing smoke alarms in their homes."
Fire officials have said the fire started around 1 a.m., and that multiple neighbors called 911. The two people inside were initially trapped, and after first responders pulled them out and gave them CPR, they were rushed to Milford Regional Medical Center, where the man was pronounced dead. The woman was later flown to Massachusetts General Hospital in critical condition.
Firefighters found the man in the hallway of the one-level ranch house before heading back into the burning building to find his wife in the bedroom. No fire alarms were found inside the home. Multiple towns responded to help, including Westborough, Milford, Ashland, Southborough, Upton and Medway.
Neighbors told NBC10 Boston that the man lived in that house for around 40 years. They described him as a father and a Marine who loved dogs, rode motorcycles, had a doctorate in sound technology and a masters in drums. They said his wife was a school bus driver in a neighboring town.
"He used to put on cookouts for fireman and police down here. He was such a nice guy I just can't believe this happened to him," friend Tim Smith said.
Hopkinton Fire Chief William Miller previously said that news of the fire was hard on the whole town.
"It's tough. They're part of our community. Hopkinton is a very tight community. It's a great community. And unfortunately, when something happens like this happens, it's going to shock the community. It's very devastating," Miller said.