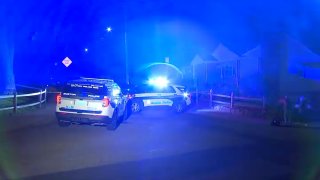 The two men fatally shot in what are believed to be related incidents in Boston's Hyde Park neighborhood Saturday night have been identified.
The shooting both men are connected to took place about 9:37 p.m. on Dedham Street, Boston police said. One man was found dead in a car, another walked into Milton Hospital and later died.
The man found dead in the car was identified Tuesday as Joshua Milton, a 21-year-old from Stoughton, and the man who died at the hospital was Reneil Miller, a 23-year-old from Hyde Park, police said.
Police didn't say how the two shooting victims may be related or how they're believed to be shot. The investigation remained ongoing Tuesday.
No arrests have been announced.
Neighbors said they heard several gunshots and then saw a car crash into a pole. They could see bullet shell casings littered on the ground — chaos that's very unusual for such a quiet neighborhood.
Anyone with information about the shooting is asked to call police at 617-343-4470.
More on gun violence in Boston
Sign up for our Breaking newsletter to get the most urgent news stories in your inbox.