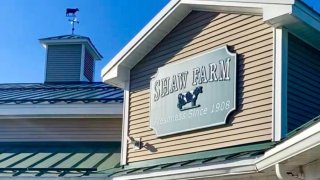 Several cows were killed when a dairy barn at Shaw Farm in Dracut, Massachusetts, collapsed due to heavy snow and rain from Tuesday's nor'easter.
"Today at Shaw Farm we experienced one of life's unexpected challenges. Thankfully, no staff members were hurt. Sadly, we did lose a few of our animals," Shaw Farm said in a Facebook post Tuesday. "We are extremely grateful to everyone who came to our aid this afternoon including our staff, family, fellow farmers, neighbors, friends, and the Dracut Police and Fire Department."
Later in the day, the farm responded to concerns about one of its beloved residents, Bailey the miniature donkey, who has his own Facebook page.
"Thank you everyone for checking," they said. "Bailey is OK."
The Lowell Sun reports that the roof collapse occurred around noon Tuesday, and that "a handful" of cows died. The entire dairy herd was inside the building at the time of the collapse.
"I think we got around a foot of snow, but it's heavy, wet stuff," Warren Shaw told the Sun. "Whatever it was, it took down that building."
Shaw said he plans to rebuild the barn.
Shaw Farm has been around since 1908, and includes a full dairy operation, a farm store and ice cream stand. The farm said on its Facebook page that the farm store and ice cream stand will be open for regular business despite the roof collapse.