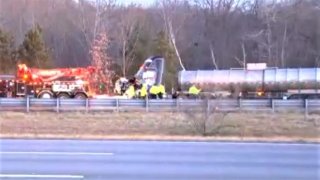 A 21-year-old man has died after colliding with a tractor-trailer in Haverhill on Interstate 495 Friday morning, Massachusetts State Police said.
Commuters were told to expect "major delays" during the Friday morning commute, according to the Massachusetts Department of Transportation, after the fatal crash closed down most of the southbound side of the highway.
State police said Sebastian Hidalgo, of Haverhill, was driving a Honda CRV north on the southbound side of 495 shortly after 3 a.m. when he hit the tractor-trailer. He was declared dead at the scene.
The tractor-trailer driver, a 59-year-old man from Maine, was not injured.
Fuel was leadking from the truck's saddle tanks, police said.
The entire southbound side of the highway was closed off for about three hours. Traffic was redirected between exit 115, Broad Street in Merrimac, and exit 111, Route 110 in Haverhill, for much of the morning.
Massachusetts State Police, collision reconstruction, crime scene and commercial cars were on scene Friday morning. The cause of the crash remains under investigation.