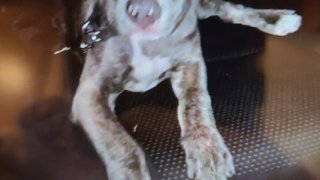 A pit bull puppy that police in Dedham, Massachusetts, had been looking for after being stolen in a house break on Sunday night has been found, its owner said Monday.
Dedham police said they received a report around 8:20 p.m. Sunday of the break-in on Bussey Street. When they got there, the resident told them they had left the home for short period of time and when they returned they found signs of forced entry in the rear of the home.
Whoever had broken into the home had already left the scene, police said.
An 8-week-old female pit bull puppy was stolen from the home, along with jewelry, cash, footwear, documents and a 2015 Honda CRF450R dirt bike, according to police.
The woman who owns the dog said it was found roaming around and taken to a shelter in Quincy.