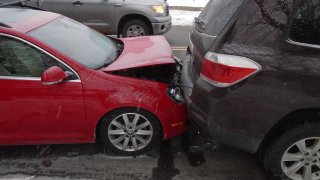 A pickup truck crashed into a parked SUV in Exeter New Hampshire, on Saturday, causing a chain reaction that left four vehicles damaged and landed the driver in jail on drunken driving charges, police said.
Edward Burke, a 73-year-old from nearby Newmarket, was arrested on DUI charges after the crash on Court Street at about 3:35 p.m., according to the Exeter Police Department.
He was allegedly behind the wheel of the Dodge Ram police said caused the crash. They shared images of the truck and the three parked vehicles involved in the crash near Phillips Exeter Academy's George H. Love Gymnasium.
"It was very fortunate that no one was injured during this incident as the timing was aligned with many students and parents crossing in the immediate area during the Phillips Exeter/Andover games," Police Chief Stephan Poulin said in a statement.
Burke was released on bail and due in court for a hearing on Thursday, police said. It wasn't immediately clear if he had an attorney who could speak to Burke's arrest.